Native American Moons
Abenaki | Algonquin | Anishnaabe | Apache | Arapaho | Assiniboine | Cherokee | Cheyenne | Choctaw
Comanche | Cree | Creek | Haida | Hopi | Kalapuya | Lakota | Mohawk | Omaha | Passamaquoddy | Ponca
Potawatomi | Pueblo | Shawnee | Shoshone | Sioux | Tlingit | Winnebago | Wishram | Zuni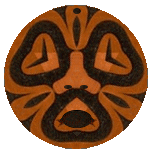 "Humankind has not woven the web of life. We are but one thread within it.
Whatever we do to the web, we do to ourselves." ~ Chief Seattle 1854



American Indian Tribes gave names to each of the full moons to keep track of the passing year. The names are associated with the entire month until the next full moon occurs. Since a lunar month averages 29 days, the dates of the moons change from year to year.
Abenaki
Northeast, Maine

Month
Name of Moon
Meaning

January
February
March
Mid-March
April
May
June
July
August
September
October
November
December


alamikos
piaodagos
mozokas
sigwankas
sogalikas
kikas
nokahigas
temaskikos
temezowas
skamonkas
penibagos
mzatanos
pebonkas


greetings maker moon
makes branches fall in pieces moon
moose hunter moon
spring season maker moon
sugar maker moon
field maker moon
hoer moon
grass cutter moon
cutter moon
corn maker moon
leaf falling moon
freezing river maker moon
winter maker moon

Algonquin
Northeast to Great Lakes

Month
Name of Moon
Meaning

January
February
March
April
May
June
July
August
September
October
November


squochee kesos
wapicuummilcum
namossack kesos
suquanni kesos
moonesquanimock kesos
twowa kesos
matterllawaw kesos
micheenee kesos
pohquitaqunk kesos
pepewarr
quinne kesos


sun has not strength to thaw
ice in river is gone
catching fish
when they set indian corn
when women weed corn
when they hill indian corn
squash are ripe
when indian corn is edible
middle between harvest & eating corn
white frost on grass
much white frost on grass

Anishnaabe (Chippewa, Ojibwe)
Great Lakes

Month
Name of Moon
Meaning

January
February
March
April
May
June
July
August
September
October
November
December


gichi-manidoo-giizis
namebini-giizis
bebookwaadaagame-giizis(oog)
iskigamizige-giizis(oog)
waabigwani-giizis
ode'imini-giizis
aabita-niibino-giizis
miini-giizis
manoominike-giizis
binaakwe-giizis
gashkadino-giizis(oog)
manidoo-gizisoons


great spirits moon
sucker moon
snow crust moon
broken snowshow moon
blossom moon
strawberry moon
raspberry moon
berry moon
rice moon
falling leaves moon
freezing moon
small spirits moon

Apache
Southern Plains

Month
Name of Moon

January
April
May
July
October


time of flying ants
moon of the big leaves
season when the leaves are green
moon of the horse/time of ripeness
time when the corn is taken in

Arapaho
Great Plains

Month
Name of Moon

January
February
March
April
May
June
July
late July
August
September
October
November
December


when snow blows like spirits in the wind
frost sparkling in the sun
buffalo dropping their calves
ice breaking in the river
when the ponies shed their shaggy hair
when when the buffalo bellows
the hot weather begins
when the chokeberries begin to ripen
geese shedding their feathers
drying grass
falling leaves
when the rivers start to freeze
popping trees

Assiniboine
Northern Plains

Month
Name of Moon
Meaning

January
February
March
April
May
June
July
August
September
October
November
December


wicogandu
amhanska
wicinstayazan
tabehatawi
indiwiga
wahequosmewi
wasasa
capasapsaba
wahpegiwi
anukope
cuhotgawi
wicogandu-sungagu


center moon
long dry moon
sore eye moon
frog moon
idle moon
full leaf moon
red berries
black cherries
yellow leaf
joins both sides
frost moon
center moon's younger brother

Cherokee
East Coast, Carolinas

Month
Name of Moon
Meaning

January
February
March
April
May
June
July
August
September
October
November
December


unolvtana
kagali
anvhyi
kawohni
ansgvti
dehaluyi
kuyegwona
galohni
dulisdi
duninhdi
nvdadegwa
vskihyi


cold moon
bony moon
strawberry moon
flower moon
planting moon
green corn moon
ripe corn moon
drying up moon
nut moon
harvest moon
trading moon
snow moon

Cheyenne
Great Plains

Month
Name of Moon
Choctaw
Southeast, Mississippi, Louisiana

Month
Name of Moon
Meaning

Early December
Late Dec - Early Jan
Late January
Early February
Late Feb - Early March
April
May
Early June
Late June - Early July
Late July - Early August
Late August - September
October
November


Hash Haponi
Hash Haf
Hash Chaf Iskono
Hash Chaf Chito
Hash Mali
Hash Bissi
Hash Bihi
Hash Takkon
Hash Watallak
Hash Luak Mosholi
Hash Tek Inhasi
Hash Koinchush
Hash Koichus


moon of cooking
moon of sassafras
moon of little famine
moon of big famine
moon of winds
moon of blackberry
moon of mulberry
moon of peach
moon of the crane
green corn festival
courting time
moon of the wildcat
moon of the panther

Comanche
Southern Plains

Month
Name of Moon
Meaning

January
February
March
April
May
June
July
August
September
October
November
December


toh mua
positsu mua
tahpooku mua
tahma mua
totsiyaa mua
puhi mua
urui mua
tahma mua
taboo mua
yuba mua
yubaubi mua
wahi mua


year moon
sleet moon
cottonball moon
new spring moon
flower moon
leaf moon
hot moon
summer moon
paperman moon
fall moon
heading to winter moon
evergreen moon

Cree
Northern Plains, Canada

Month
Name of Moon
Meaning

January
February
March
April
May
June
July
August
September
October
November
December


gishepapiwatekimumpizun
cepizun
migisupizum
kiskipizun
aligipizun
sagipukawipizun
opaskwuwipizun
opunhopizun
weweopizun
opinahamowipizun
kaskatinopizun
papiwatiginashispizun


old fellow spreads the brush
old moon
eagle moon
gray goose moon
frog moon
moon leaves come out
moon when ducks begin to molt
moon young ducks begin to fly
snow goose moon
moon the birds fly south
moon the rivers begin to freeze
young fellow spreads the brush

Creek
Southeast, Alabama, Georgia

Month
Name of Moon
Meaning

January
February
March
April
May
June
July
August
September
October
November
December


rv'fo cusee
hotvlee-hv'see
tasahcucee
tasahcee-rakko
kee-hvsee
kvco-hvsee
hiyucee
hiyo-rakko
otowoskucee
otowoskv-rakko
echolee
rvfo-rakko


winter's younger brother
wind moon
little spring moon
big spring moon
mulberry moon
blackberry moon
little harvest
big harvest
little chestnut moon
big chestnut moon
frost moon
big winter

Haida
Alaska

Month
Name of Moon
Meaning

January
February
March
April
May
June
July
August
September
October
November
December


táan kungáay
hlgit'un kungáay
xitgáas kungáay
xiit kungáay
tahálaa kungáay
gáan kungáay
chiin kungáay
k'iit'aas kungáay
kálk kungáay
cha'áaw kungáay
t'a'áaw kungáay
gáangálang kungáay


bear hunting moon
goose moon
noisy goose moon
migratory geese moon
food-gathering moon
berries ripen moon
salmon moon
cedar bark for hat & baskets
ice moon
bears hibernate
snow moon
ripe berries

Hopi
Southwest, Arizona

Month
Name of Moon
Meaning

January
February
March
April
May
June
July
August
September
October
November
December


paamuya
powamuya
osomuyaw
kwiyamuyaw
hakitonmuyaw
uyismuya
nimanmuya
paamuya
nasanmuyaw
angaqmuyaw
kelmuya
kyaamuya


moon of life at it's height
moon of purification and renewal
moon of the whispering wind
moon of windbreak
moon of waiting
moon of planting
moon of the homedance
moon of joyful
moon of full harvest
moon of long hair
moon of fledgling hawk
moon of respect

Kalapuya
Pacific Northwest, Oregon

Month
Name of Moon
Meaning

January
February
March
April
May
June
July
August
September
October
November
December


atalka
atchiulartadsh
atcha-uyu
amanta kotantal
atantal
anishnalya
ameku
akupiu
atchiutchutin
atchalankuaik
alangitapi
adshampak


stay inside
out of food
women dig camas
time for pounding camas
camas blooming time
camas ripe
mid summer
end of summer
after harvest
start getting sagittair roots
moving inside for winter
not bad weather

Lakota
Northern Plains

Month
Name of Moon
Meaning

January
February
March
April
May
June
July
August
September
October
November
December


wiotehika wi
cannapopa wi
istawicayazan wi
wihakaktacepapi wi
canwape to wi
wipazatkan waste wi
canpasapa wi
wasutoa wi
canwape gi wi
canwape kasna wi
waniyetu wi
wanicokan wi


hard moon
when trees crack because of cold
moon of the sore eyes
when wives cracks bones for marrow fat
moon of the green leaves
when the berries are good
when the chokecherries are black
moon of the ripening
moon of the brown leaves
when the wind shakes off leaves
when winter begins
when the deer shed their antlers

Mohawk
Eastern Woodlands

Month
Name of Moon
Meaning

January
February
March
April
May
June
July
August
September
October
November
December


tsothohrhko:wa
enniska
ennisko:wa
onerahtokha
onerahtohko:wa
ohiari:wa
ohiarihko:wa
seskehko:wa
seskhoko:wa
kentenha
kentenhko:wa
tsothohrha


the big cold
lateness
much lateness
budding time
time of big leaf
ripening time
time of much ripening
time of freshness
time of much freshness
time of poverty
time of much poverty
time of cold

Omaha
Central Plains, Nebraska

Month
Name of Moon

January
February
March
June
July
September


moon when snow drifts into tipis
moon when geese come home
little frog moon
moon when the buffalo bulls hunt the cows
moon when the buffalo bellow
moon when the deer paw the earth

Passamaquoddy
Northeast U.S. - St. Croix River Region

Month
Name of Moon
Meaning

January
February
March
April
May
June
July
August
September
October
November
December


opolahsomuwehs
piyatokonis
siqon
ponatom
siqonomeq
nipon
accihte
apsqe
toqakiw
amilkahtin
kelotonuhket
punam


whirling wind moon
when the spruce tips fall
spring moon
spring moon
alewive moon
summer moon
ripening moon
feather shedding moon
autumn moon
harvest moon
freezing moon
frost fish moon

Ponca
Southern Plains

Month
Name of Moon

January
March
June
July
August
October


snow thaws moon
water stands in the ponds moon
hot weather begins moon
middle of summer moon
corn is in the silk moon
when they store food in caches

Potawatomi
Great Lakes

Month
Name of Moon
Meaning

January
February
March
May
June
July
August
October
November


mkokisis
mnokesis
cicakkises
te'minkeses
msheke'kesis
we'shkitdaminkese
e'mnomukkises
e'sksegtukkisis
pne'kesis


moon of the bear
moon of the rabbit
moon of the crane
moon of the strawberry
moon of the turtle
moon of the young corn
moon of the middle
moon of the first frost
moon of the turkey

Pueblo
Southwest, New Mexico

Month
Name of Moon

February
March
June
September
November


moon of the cedar dust wind
moon when the leaves break forth
moon when the leaves are dark green
moon when the corn is taken in
moon when all is gathered in

Shawnee
Midwest, Ohio, Pennsylvania

Month
Name of Moon
Meaning

January
February
March
April
May
June
July
August
September
October
November
December


ha'kwi kiishthwa
haatawi kiishthwa
shkipiye kwiitha
poosh kwiitha
hotehimini kiishthwa
mshkatiwi kiishthwa
miini kiishthwa
po'kamawi kiishthwa
ha'shimini kiishthwa
sha'teepakanootha
kini kiishthwa
washilatha kiishthwa


severe moon
crow moon
sap moon
half moon
strawberry moon
raspberry moon
blackberry moon
plum moon
papaw moon
wilted moon
long moon
eccentric moon

Shoshone
Great Basin, Nevada, Wyoming

Month
Name of Moon
Meaning

January
February
March
April
May
June
July
August
September
October
November
December


goa-mea'
isha-mea'
yu'a-mea'
badua'-mea'
buhisea'-mea'
daa'za-mea'
daza-mea'
guuteyai-mea'
yeba-mea'
naa-mea'
ezhe'i-mea'
dommo-mea'

freezing
coyote
warming
melting
budding
summer starting
summer
hot
fall
rutting
cold
winter

Sioux
Great Plains, Dakotas, Nebraska

Month
Name of Moon

January
February
March
April
May
June
July
August
September
October
November
December


wolves run together
dark red calves
sore eye moon
red grass appearing
moon when the ponies shed
strawberry moon
red blooming lilies
cherries turn black
calves grow hair
changing season
falling leaves
when deer shed their horns

Tlingit
Pacific Northwest Coast

Month
Name of Moon
Meaning

January
February
March
April
May
June
July
August
September
October
November
December


t'aawak dis
s'eek dis
heentáanáx kayaan'i dis
x'eigaa kayaani dis
at gadaxeet yinaa dis
at gadaxeet dis
xaat disi
sha-ha-yi
dis yádi
dis tlein
kukahaa dis
shanáx dis


goose moon
black bear moon
underwater plants sprout
budding moon of plants and shrubs
moon before pregnancy
birth moon
salmon moon
berries ripe on mountain
big moon
young animals moon
scraping moon
unborn seals are getting hair

Winnebago
Great Lakes

Month
Name of Moon

February
April
May
July
November
December


fish-running moon
planting corn moon
hoeing-corn moon
corn-popping moon
little bear's moon
big bear's moon

Wishram
Columbia River, Washington, Oregon

Month
Name of Moon

January
February
March
April
May
June
July
August
September
October
November
December


her cold moon
shoulder to shoulder around the fire moon
long days moon
the 8th moon
the 9th moon
fish spoils easily moon
salmon go up rivers in a group moon
blackberry patches moon
her acorns moon
travel in canoes moon
snowy mountains in the morning moon
her winter houses moon

Zuni
Southwest, New Mexico

Month
Name of Moon
Meaning

January
February
March
April
May
June
July
September
October
December


dayamcho yachunne
onon u'la'ukwamme
li'dekwakkya ts'ana
li'dekwakkya lana
yachun kwa'shi'amme
ik'ohbu yachunne
dayamcho yachunne
li'dekwakkwya ts'ana
li'dekwakkwya lana
ik'ohbu yachunne


limbs are broken by snow
no snow in trails
little sand storm
great sand storm
no name
turning moon
limbs are broken by fruit
corn is harvested
big wind moon
sun has traveled home to rest

source: americanindian.net